The media convey culture and lifestyles more than one would be prone to think. They contribute to attaching a socially shared significance to the set of symbols and signs that shape a country's cultural system through radio, tv, press or internet, with blogs and social networks, or audio-visual fiction and entertainment programmes that are watched on the tv screen in one's living room or more frequently on tablets and smartphones.
The Osservatorio di Pavia has used several analysis techniques to detect lifestyles and cultural phenomena conveyed by the media.
The projects
La Televisione del Dolore: un'indagine sulle "cattive pratiche" televisive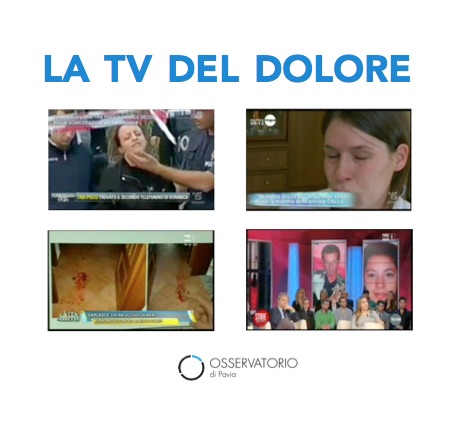 Nel corso di questi anni, guardando i programmi televisivi succede sempre più spesso di imbattersi nei racconti di casi di cronaca nera o giudiziaria oppure di vicende centrate su situazioni di disagio individuale o sociale. Storie di omicidi, di violenze e abusi, di aggressioni e atti di bullismo, di malattie gravi e invalidanti, di incidenti stradali e calamità naturali dall'esito tragico: casi, tutti questi, accomunati dal senso di sofferenza vissuto dai singoli, nelle famiglie o nelle comunità più allargate. Con un'espressione molto sintetica ma efficace, quando i programmi televisivi affrontano questi argomenti, declinandoli in un senso che molto concede allo spettacolo del dramma personale o collettivo, si parla di "TV del dolore".
Obiettivo di questa ricerca è comprendere e descrivere le modalità di rappresentazione/narrazione messe in atto nella TV del dolore. Verificare, innanzitutto, quanta parte del palinsesto giornaliero è rivolta a questi argomenti; quali sono i programmi maggiormente impegnati a focalizzare l'attenzione del telespettatore su queste storie più o meno drammatiche e drammatizzate; quali sono, soprattutto, le modalità, le tecniche narrative, gli strumenti retorici che ne sorreggono il racconto e se sussistono delle "cattive pratiche" nella loro ricostruzione.